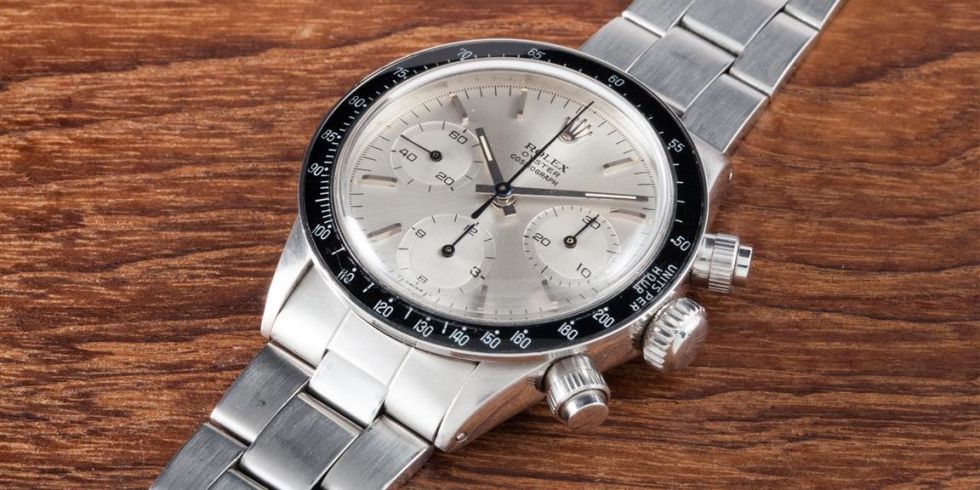 A famous Rolex ref 6263 Oyster "Albino" Daytona that once graced the wrist of famous guitarist Eric Clapton has gone up for auction in Geneva. To everyone's surprise, the extremely rare watch broke the record for any Rolex timepiece that has even been sold at auction. Selling for $1.4 million, the Oyster Albino Daytona once belonging to Eric Clapton set a new world record.
Aside from belonging to one of the most famous guitarists of all time, the Rolex ref 6263 is only one of four such watches known to exist. This "holy grail" of Rolex watches is so sought after because of its rarity and unique "Albino" coloring. The watch offers a gorgeous silvered dial and silvered chronograph subdials, giving it a very light and almost washed-out look. This led to the watch being nicknamed the "Albino" Daytona. This timepiece is a drastic contrast to the typical Daytona of the time period which features contrasting black chronograph subdials with white printing.
Rolex ref 6263 is considered a vintage watch and was originally produced in 1971. This particular model was bought by Clapton in the late 1990s. Within its waterproof stainless steel case is the manually wound caliber 727 movement. The watch also features a matching stainless steel bracelet.
Breaking World Records
This is not the first time this particular watch has gone up for auction, nor the first time it has set a world record. On June 5, 2003 the same Clapton Albino watch was auctioned at Sotheby's New York where it successfully smashed the previous world record for the sale of a Rolex Cosmograph Daytona at auction by selling for $505,000. This was five times its pre-auction estimate. It has again surprised experts with this last sale of $1.4 million with its pre-auction estimate at $500,000.