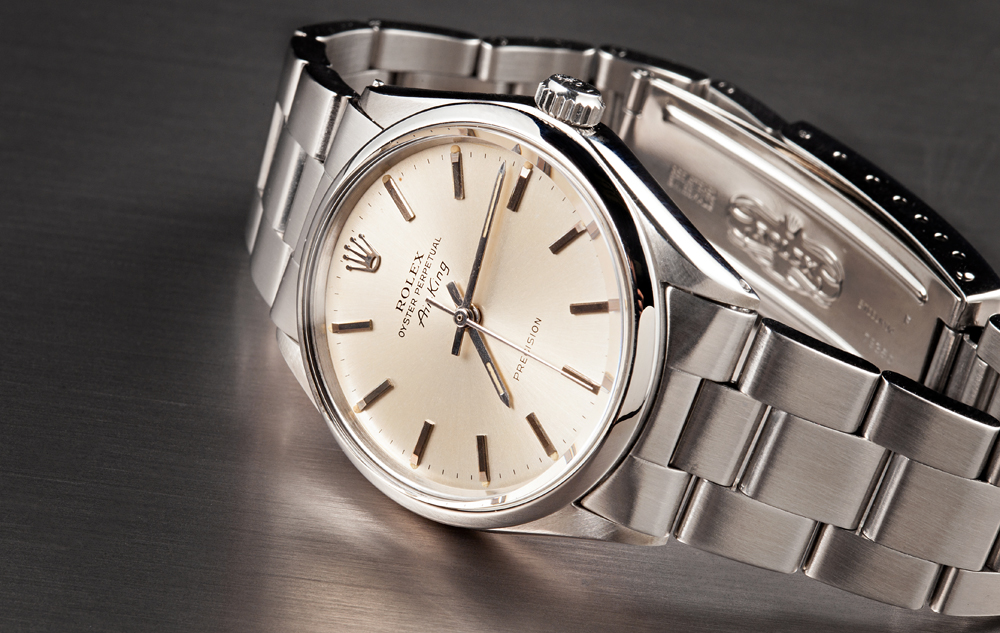 The Rolex Air King watch is considered one of Rolex's most enduring models. Its long history dates back to the 1930s. Prior to World War II, Rolex Oyster Perpetual wristwatches were utilized by British pilots because of their reliability and precision. When Rolex learned that British pilots preferred their watches, the company created the special "Air" family. The first version of this unique watch was released in 1945 and acted as a conglomeration of all the "Air" watches. Because of its association with British pilots, this unique timepiece was nicknamed the "Warrior Watch."
Measuring 34mm, this unique watch was available in gold plating and featured a unique two-tone bezel and bracelet. This two-tone look makes it perfect for a nice dinner or a day in the office. Like many other Rolex watches, this particular version utilizes a watertight Oyster case and screw down Twinlock crown, letting it remain waterproof up to 100 meters. Inside, the watch utilizes a 27-jewel movement. Unlike similar watches like the Day Date, this particular timepiece is fairly simple and does not feature a date aperture or other additional feature. This leaves the dial clear and uncluttered. The watch's stick hands add to this feel, giving the watch a "no nonsense" and simple look.
The watch was left relatively untouched until 1989 when it received a movement improvement. By 2007, it was a fully certified COSC chronometer. However, in 2014 Rolex ended this special line of watches. Despite it no longer being in production, this unique timepiece is readily available on the pre-owned Rolex watch market. Its tough practicality and durability, accompanied by a simplistic style, has drawn a wide range of admirers and buyers. If you are looking for an elegant and simple watch that is perfect for any moment in your life, from a formal gathering to a relaxed weekend cookout, this unique Rolex timepiece is the perfect choice.