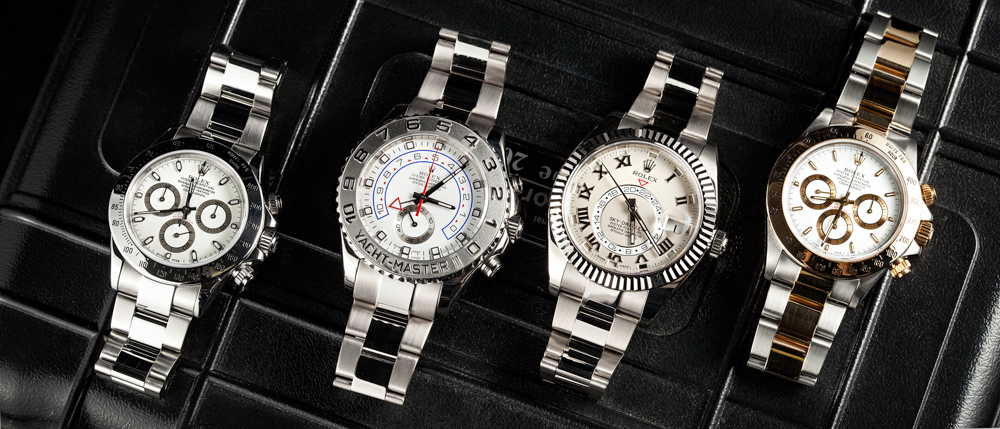 The name Rolex instantly brings to mind luxury and expert craftsmanship. It is no surprise that many Rolex timepieces sell for a high amount. Even the most basic Rolex watches sell for a few thousand dollars. Over time, many Rolex timepieces have come up for auction, selling for thousands and even millions of dollars. Here is a list of some of the most expensive Rolex watches ever sold:
• 1942 Rolex Chronograph – This unique model is considered one of the most expensive watches ever sold. It is also one of the rarest. Released in 1942, Rolex only made 12 units which feature a nickel finish and lever 17 jewels movement and silver matte dial with pink gold Arabic and baton numerals. Originally estimated at a value of $680,000, a single example sold for $1.16 million at a Christie's auction.
• Eric Clapton's 1971 Rolex Daytona – Anything Eric Clapton owned is highly valued, including his Rolex timepiece. This unique watch features a silver monochrome dial which led to its nickname "Albino." This is considered a rarer Rolex timepiece and is typically valued at around $100,000. However, because Clapton wore this specific one, it sold for $505,000.
• Rolex GMT 116769TBR – With its use of luxurious and highly prized materials, this watch is considered the priciest timepiece to ever come directly from the company. It features a stunning diamond encrusted dial with luminous hour markers. The 18k white gold case is also encrusted with 76 brilliant round diamonds. This particular watch sold for $485,350.
• James Bond 1973 Rolex 5513 – In the classic Bond film Live and Let Die, Roger Moore wore a Rolex 5513. This classic watch features a stainless steel body and white on black dial. Because it was worn by "James Bond," it also offers a razor disc, buzz saw and a magnetic field generator. This highly prized and unique timepiece sold for $450,000 at auction.
• Paul Newman Rolex Daytona – The Paul Newman Daytona has long been the signature watch of the company. Its stunning casing and dial are made of 14k champagne gold. The dial is fitted with a tachometer and three highly recognizable black interior sub dials for optimal contrast. This timepiece is extremely rare, with only 200 units made. One of these rare watches sold for $106,273 at auction.