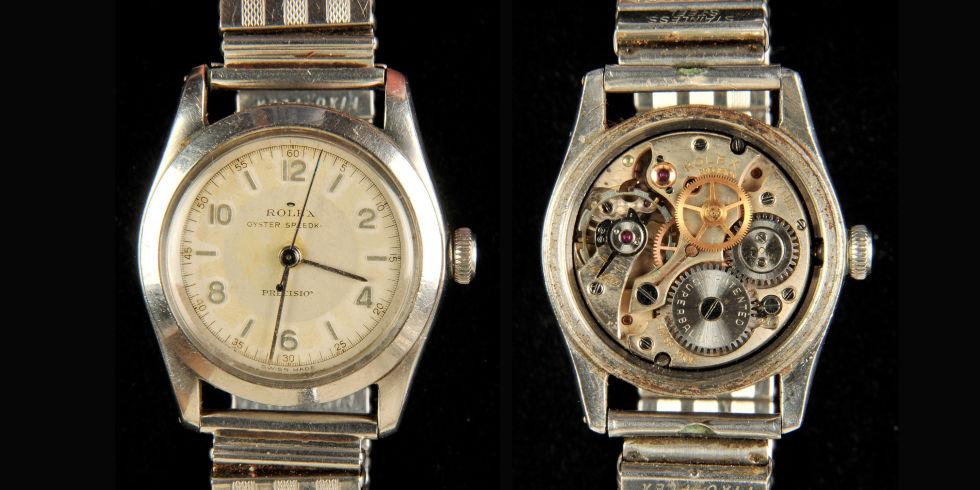 The Rolex company has produced a wide range of watches for the armed forces around the world for most of its history. It is no surprise that some of these watches have seen action in battle and witnessed historic events. One such Rolex watch is set to go up for sale at auction in England.
In December 1942, Flight Lieutenant Gerald Imeson ordered and received a Rolex Oyster Chronograph while being held as a prisoner of war (PoW) in the Stalag Luft III camp in Germany. During this troubling time, Rolex allowed British PoWs who were officers to replace any timepieces seized by the German soldiers and settle their balance once the war had concluded.
This typical watch of the time period was worn on Imeson's wrist while he famously dug three tunnels to escape in 1944. This even became known as the "Great Escape" and has been immortalized in film and legend. Unfortunately, Imeson, who was 172 in line to escape, was unable to do so before the German guards discovered the tunnels. By 1945, the Soviet army was closing in on the prison. To counter, the Germans forced the PoWs, including Imeson, on the "Long March." Without protection from the hostile winter conditions and without food, Imeson miraculously survived and made it to another PoW camp. Upon arriving, Imeson and his Rolex watch were transported by cattle truck to Tarmstedt Ost on February 4 and later to Marlag-Milag Nord Royal Naval PoW camp. Imeson remained there until April 1945 when the camp was liberated by the Allied forces. After the war had concluded, Imeson returned to Britain where he paid off his balance to Rolex of £170.
Currently, this special piece of history is being held at the Bourne End Auction Rooms in Buckinghamshire where expert appraisers believe it will sell for $38,000 or more. Those who decide to bid on this special timepiece will have a unique opportunity to gain a rare piece of history as well as a durable, reliable and timeless watch.